Scholarships
Scholarship Endowment
---
CLEMSON UNIVERSITY FOUNDATION
Matt Blackwell Foundation Scholarship Endowment
The Matt Blackwell Foundation Scholarship Endowment was established on December 16, 2015 in loving memory of Matthew Blackwell. Through the work of his foundation, Matt's impact on young lives continues today and his legacy will live on forever through the scholarship endowment at his beloved Clemson University.

The endowment, governed through Clemson University Foundation policies and procedures, will provide university-wide scholarships in memory of Matt. The student recipients must be residents of Lancaster County, SC.

 ___________________________________________________________________________
USC Lancaster Baseball

Matt Blackwell Foundation Scholarship
Each season, the Matt Blackwell Foundation presents a one year scholarship to a freshman on the USC Lancaster baseball team. The recipient is selected by the USCL coaching staff and is based on the player's academics, attitude, and ability to lead and inspire his teammates.
---
 Scholarship Dinner
CLASS OF 2014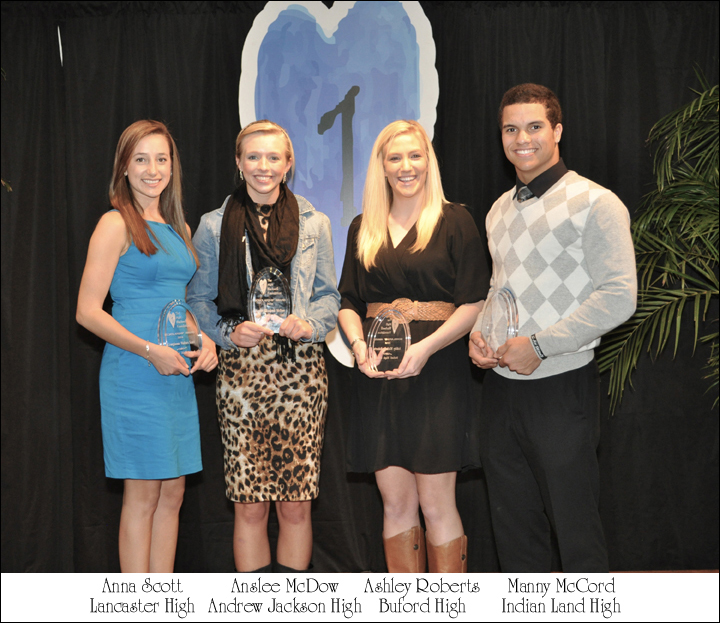 Renaldo Wynn
2014 Keynote Speaker
"The Key Ingredient is Love."
Another large crowd was on hand for this year's Matt Blackwell Foundation Scholarship Dinner,

held on Tuesday, February 18th at the Lancaster Golf Club Fairway Room. The night featured

musical performances by members of the Andrew Jackson High School All-State Chorus, the

scholarship presentation to four outstanding Lancaster County high school seniors, and an inspiring

message from keynote speaker Renaldo Wynn.

Wynn, a 12 year NFL veteran out of Notre Dame, spoke of  his career; in particular, his years

spent playing under legendary coach, Joe Gibbs, and the relationship that developed between

the two of them during and after his playing days. Renaldo currently works in business development

at Joe Gibbs Racing in Huntersville, NC, but spends most of his time assisting in Coach Gibbs'

Game Plan for Life ministry. Game Plan for Life is a men's outreach ministry that Coach Joe Gibbs

started in 2009 as an extension of his book, Game Plan for Life. RenaldoWynn goes all over

the nation touching and changing lives thru the inner city and prison outreach part of this ministry.

  Renaldo also shared stories of his early struggles as a young teen growing up in the gang-ridden

south side of Chicago and how it was sports that kept him away from that environment. It was

mentors like his high school coach that believed in him and inspired him to be the best he could be.

"God puts certain people in our life for a reason. We can't do anything on our own." said Wynn.

"Matt Blackwell made such an impact on so many people and he and his team continue to do so

through the work of his foundation." he noted.  "The key ingredient to this foundation's success

and to our successes in life are symbolized by what's behind me, this heart. It represents love.

Love is not overrated. Love breaks down every barrier that you can imagine. The love, the

relationships, and the love of Christ, that's what's important " he added.

Renaldo concluded by telling this year's scholarship recipients how they have already made

an impact in their community and how they will continue to impact and continue to be an influence

throughout their lives.